Research
Baltic Yearbook of International Law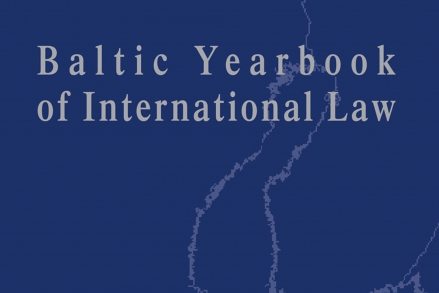 Baltic Yearbook of International Law
The Baltic Yearbook of International Law is an annual scientific yearbook in international law that has been published since 2001. The yearbook was made possible by the long-term cooperation of international and European law research fellows from all three Baltic States and has allowed them to be heard in the international academic discourse. Since the first volume, it has been published by one of the largest legal publishers in Europe Brill/Martinus Nijhoff Publishers that is based in the Netherlands and ensures global distribution of this scientific journal. At the same time, this legal publication has contributed to strengthening the contemporary academic Baltic tradition in international and European law, and made new legal researchers interested in the themes of international and European law.

The Baltic Yearbook of International Law more and more often serves as a source of doctrine during various scientific discussions. Over the years, many legal research fellows have published their scientific articles also on the legal question of occupation of the Baltic States and analyses of its legal consequences in the yearbook. To a large extent, it was made possible by the fact that strengthening the clarity and understanding of Latvian, Estonian and Lithuanian State continuity principle based in scientific legal methods has been one of the main topics for the co-editors-in-chief (I. Ziemele from Latvia, L. Mälksoo from Estonia, and D. Žalimas from Lithuania). As the yearbook is internationally renowned, the results of this research have also become widely available to the international scientific discourse.

Since 2018, the editorial board of the Baltic Yearbook of International Law has operated from Riga Graduate School of Law. After the restoration of independence, this school was established to strengthen the Latvian capacity in international law and European Union law, as well as the human rights law. The school took over publishing as of Volume 17 that was devoted to the centenary of the three Baltic States: Estonia, Latvia, and Lithuania.

You can download BYIL Guidelines for authors here.